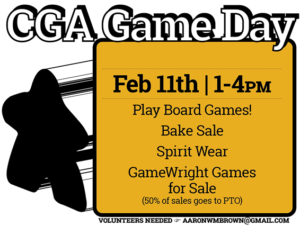 Join the Phoenix community for a day of board games, food and fun.
Saturday, February 11, 1 – 4 PM at CGA!
Bring your own game to share or learn one of the many we'll have on hand.
This is a free event, but bring a little cash for the bake sale, spirit wear and/or GameWright Games.
Purchase CGA spirit wear–new and gently used! If your kid has ALREADY outgrown the spirit wear, bring it to Game Day to donate to the PTO's sale. Gently used T-shirts, $5; Gently used hoodies, $10.
Support the PTO by purchasing games from GameWright Games or snacks at the bake sale.
FREE popcorn for all that attend!